This object is in archive!&nbsp
Aeotec Multisensor 6 - missing vibration
I just bought and included a Aeon multisensor 6, but did not get any sensor for vibration in the config or the device manager. See attached config (missing vibration settings)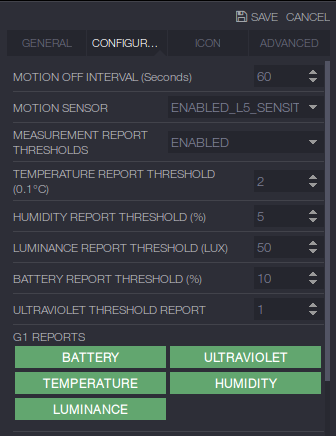 Since I have read a lot about problems with measuring UV, I pointed it towards the sun and let it stay like this for some hours. I got lux readings in the 11000-13500 range (as expected), but UV only went from 0 to 1 a litte while. During winter in Scandinavia, I expect the UV to be low, but found this value to be a bit strange.
So,
1. Is it a known problem that no vibrations sensor is created for the Aeon multisensor 6 in Zipabox?
2. Is the UV meassuring still not working (I read some old posts where people had problems with it)?