This object is in archive!&nbsp
homewizard replacement project
Hi all,
Tomorrow the Zipato base hardware kit is going to be delivered which will be used to phase out the HomeWizard installation which comprises of KAKU (Klik Aan Klik Uit) switches, relays etc. a Logitech Harmony 1100 with an IR to KAKU bridge and a PS III with an IR head. As HomeWizard came late with the announcement of the 'smart' radiator valves another product was already installed being the honeywell evohome - hence another independent component. at this stage some components might not be listed though will be discussed later in the follow up posts of this project.
Now why would you start replacing a working system? Well, the HomeWizard is very basic and therefore a great entry level product for those out there that have limited knowledge of home automation and Domotica. Some more advanced users will list obvious reasons not to move towards HomeWizard with KAKU like uni-directional communication (it can only send or receive signals though there is no communication between the devices or confirmation message of a state change. Also querying devices of KAKU with the HomeWizard is not supported hence the state shown in HomeWizard might not be the actual state of your environment.)
Reasons for us the phase out home Wizard is the lack of support, the poor communication of the company with respect to release cycles and the platform hasn't been replaced for over 5 years which clear shows that HomeWizard is not capable of innovating their core component. Visiting the seminars of HomeWizard also didn't yield any results when asking for a roadmap of components being released. HomeWizard just doesn't know themselves and shut you down by stating that 'Scrum' is being used as a development methodology so there is no 1 year or 2 year future plan! Well that does it for me! No strategic plan to improve their core component and just keep fiddling with adding new vendors to an already outdated platform was for me reason enough to change.
Below a small list of issues observed with HomeWizard over the past 5 years we used it:
1. Limited range (even with the tweak of adding a wire antenna)
2. Limited amount of devices (don't go beyond 50 - 100 as the device will not be able to cope with these numbers)
3. State of the actuators is not correctly displayed; a light is still on whereas HomeWizard tells it is "off"
4. Poor wireless integration; Still it is running on 2.4 Ghz and when running multiple access points in your environment it is just not stable. Hard resets are sometimes needed
5. Online services are disrupted regularly
6. rules created are executing on the box or on servers of HomeWizard which makes responses slow
7. a doorbell triggered sometimes generate a popup in the app, sometimes the doorbell rings though no popup or worse case off all - Nothing happens (damn that was the mail-man with my Zipato!)
okay - enough reasons not to go with HomeWizard for a large project.
Will Zipato step up to the plate and be able to outperform HomeWizard with KAKU?
Will Zipato be able to integrate better in the environment?
What challenges will we face and how are they overcome?
those topics will be described in future posts once the hardware gets delivered. Stuff like unboxing, mechanical and electrical installations, configuration etc. will be discussed in future posts with references to youtube to complement it all with video footage.
Stay tuned as this will be a real live example which might benefit you later to make the right decisions (and prevent a divestment down the line).
Quick overview of what will be discussed in future posts:
1. Base build and configuration of Zipato
2. Configure Zipato to replace HomeWizard leaving KAKU in place
3. replacing KAKU components with z-wave bit by bit (money tree on my back never developed :-) )
4. Improve on the level of integration
5. follow the adaptation levels of the family members...
residence overview:
3 floor levels (each 100m2 meter)
3rd floor 4 rooms
2nd floor bedroom, bathroom, toilet, office, reception area
1st floor living room, utilities room, kitchen, dining room, hall and entrance.
not to forget the garage which is currently our or range of the HomeWizard though need to be onboarded.
hardware overview:
2x doorbells
9x motion
5x contact sensors
2x heat sensors
1x power monitor (smart meters gas and electrical)
34x actuators (switched or dimmed)
30+ switches
Geofence enabled
9x security cameras
1x IrDA bridge to KAKU
15x zones for thermal control (EvoHome)
20x scenes
damn - this is going to be a lot of work!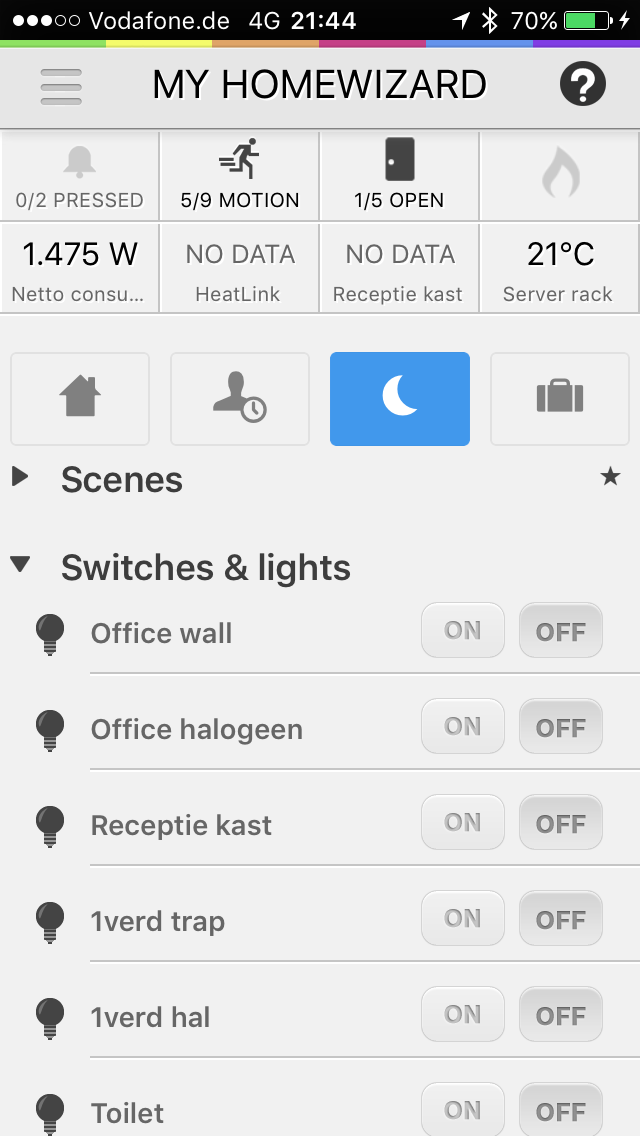 Martin