This object is in archive!&nbsp
Mutiple bugs/problems in Z-wave device configuration
Hi,
I'm not sure if I should put this under the category "Report a problem" or "Share an idea" because this post is a combination of bad UX (in my opinion) and bugs related to the device configuration.
First problem: Save button not working as expected
When you edit a parameter in the device configuration and click save, the UI responds "Device saved". In my opinion, this should indicate the changed settings are saved to the device, but that's not the case. If you click back to the device configuration, you will see the changed settings and you would expect everything to work, but this is not the case.. the setting it NOT changed to the device, even if the UI says so.
Steps to reproduce this behaviour:
1. Go to device configuration
2. Change one of the settings, clik save
3. Go back to device configuration and you will see the updated value.
4. Click on the label left of the value and click retrieve. You will see that the updated value is not saved to the device.
Just by pure luck, after many hours of troubleshooting, I discovered that you have to click the label (yes, the label!) to get to an additional menu for each parameter, which lets you retrieve and send/save the parameter as shown in the picture below: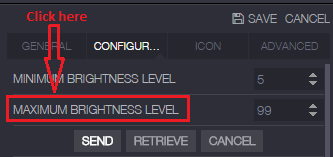 By pure luck, I discovered this hidden menu after days of troubleshooting a Fibaro Dimmer. I even went to the store to buy an additional Fibaro Dimmer 2 in case it was an hardware error with the dimmer!
Second problem: Config page does not display correct values
When you edit the configuration page, you would expect that the values shown are the values actually stored in the Z-Wave device. Very often, I find that the values shown are not the same as stored in the device. This is somewhat related to the problem mentioned abovem but this also happens for values changed by the z-wave device itselv, and not by the user. Example:

I have not changed the value, but clicked the label and pressed retrieved. The setting is not the same as shown on the device config page.
Third problem: Sending (saving) the config setting disables all other parameter menus
When you save a setting (by pressing send!) and get the confirmation message, you are not able to click any other labels to get the additional menu. You will need to navigate out of the page or refresh the webpage to retrieve the menus again.