Zipato Home Automation System is a next-generation automation system that lets you control all your home electronics. Most often it uses simple, reliable, low-power radio waves that easily travel through walls, floors and cabinets, but it can also use existing power-lines or BUS wires to connect all your home electronics.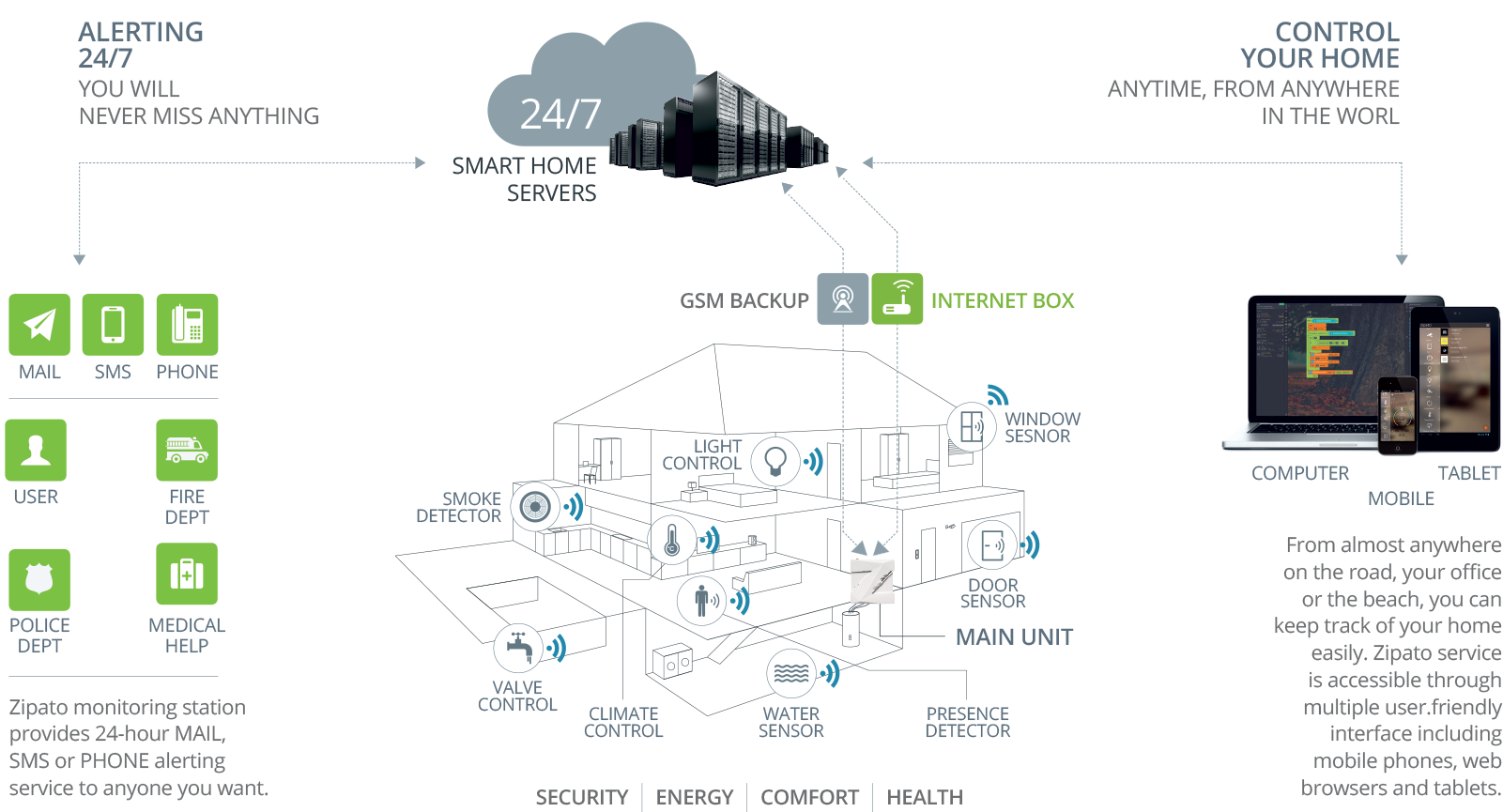 SECURITY AND SAFETY
• unlimited number of virtual alarms (partitions)
• up to 255 wireless zones
• burglary, fire, flood, gas and panic alarms
• remote arm/disarm and status-info over any smartphone
• include arm/disarm commands in automation scenes and rules
• easy integration with existing alarm systems (DSC, Paradox...)
• easy setup and configuration online over web based interface
• save by using same sensors for security and automation purpose
LIGHTING
• easy installation and easy configuration system online
• zigbee and zwave lighting modules pre-configured
• automatically turn lights on at sunset and off at sunrise
• support remote dimming and on/off switching over any smartphone
• unlimited number of scenes supported
• turn lights on during emergencies
• advanced event based rules configuration
• auto-pilot lighting programs for intruder distraction
CLIMATE
• two-way multizone heating and cooling control over any smartphone
• advanced programing scheduler online, accessible over web browser
• easily create unlimited number of custom thermostats for each room
• multizone humidity control by using standard humidifiers and dehumidifiers
• use internet weather services to program your climate conditions
• create advanced event based rules to automate your climate with your shades, lighting...
• include your climate control in automation scenes together with alarm, lighting, shades...
• get notifications in case over temperature events, power outages, and other incidents...
SUN SHADING
• control your blinds, roler-shutters, curtains and pergolas by using any smartphone
• automate motors by using fun and easy programing tool online
• add your sun shading commands into home scenarios together with lights, climate, alarms...
• automate your shades to act regarding outside weather conditions
• easy installation using wireless communication standards and pre-configuration for most of the equipment
IRRIGATION
• control unlimited number of irrigation zones
• use advanced programing options online to setup perfect irrigation process
• automate irrigation system based on Internet weather forecast
• setup your irrigation together with your complete home automation scenarios
WATER AND GAS
• detect water or gas leaks and control the flow of water
• monitor home for water or gas leaks from anywhere with any smart phone
• detect water leaks in the bathroom, laundry area or near water heaters
• receive alerts by email, text or voice
• automatically stop the flow of water or gas when leaks are detected
ACCESS
• remotely lock/unlock your door over any smartphone
• remotely open/closed your garage door or gate over any smartphone
• get video notification when someone open the door
• use RFID to open doors and get detailed statistics about multiple exits/entries
• automate doors/locks using scenarios and event based programing tool
• trigger automation events when door lock user codes are entered
• automatically unlock doors in the event of an emergency
AUDIO/VIDEO
• remotely control your audio/video equipment with any smartphone
• automatically turn on favorite shows when they air and send alerts
• automatically turn off A/V equipment at pre-set time or when room is unoccupied
• automatically turn on equipment to discourage intruders when home is unoccupied
CAMERAS
• access live and recorded video via the web and from any smartphone
• get e-mail and sms notifications with pictures and live video attached
• remotely adjust pan-tilt cameras
• create advanced event (security events, video motion detection, or time of day) based recording and video notification rules with ease
ENERGY
• real-time energy consumption monitoring and notification right on smartphones
• compare energy usage and cost with others in the area
• automatically turn on/off your appliances in accordance with electricity prices
• graphical analysis of energy consumption