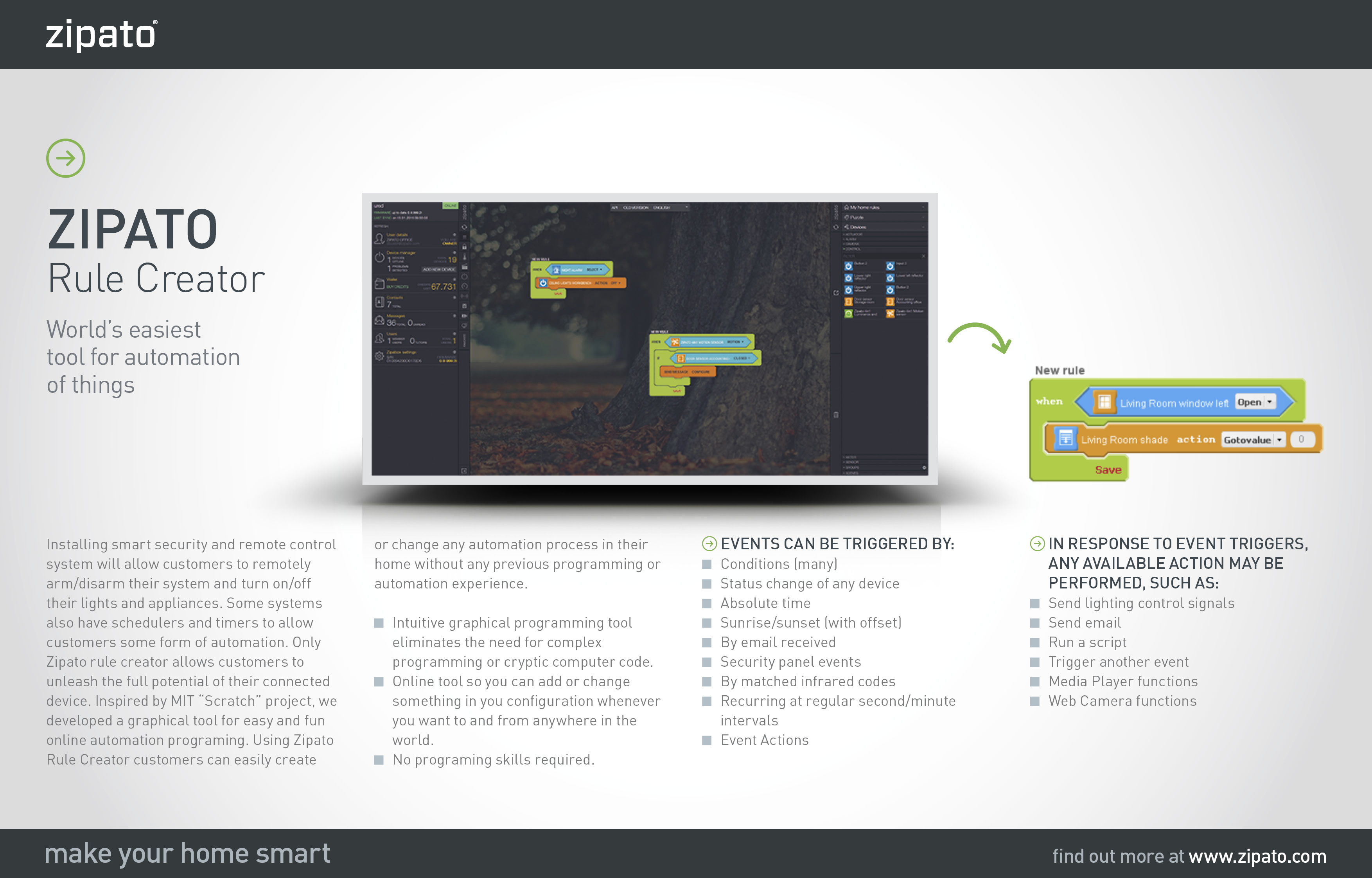 The Rule Creator is an online graphical tool that enables you to easily create rules, scenes and schedules for your Zipato's home automation system to follow. No programming experience is required. This application note introduces the basics of the Rule Creator and includes brief descriptions of the most common 'puzzle' blocks and their uses.
In the Rule Creator we select and drag 'puzzle' blocks to create a rule to control your home automation network.
From the Zipato's Control Center we go to the Rule Creator by pointing our mouse cursor on the Rule Creator Tab on the right sidebar. Right sidebar shall automatically slide to the left and open Rule Creator options and show three main tabs for Puzzle, My Home Rules and Devices.
Installing smart security and remote control system will allow customers to remotely arm/disarm their system and turn on/off their lights and appliances. Some systems also have schedulers and timers to allow customers some form of automation. Only Zipato rule creator allows customers to unleash the full potential of their connected device. Inspired by MIT "Scratch" project, we developed a graphical tool for easy and fun online automation programming. Using Zipato Rule Creator customers can easily create or change any automation process in their home without any previous programming or automation experience.
Easy online tool allows complete customization of home system:
- Intuitive graphical programming tool eliminates the need for complex programming or cryptic computer code.
- Online tool so you can add or change something in you configuration whenever you want and from anywhere in the world.
- No programming skills required.
Event can be triggered by:
- Conditions (many)
- Status change of any device
- Absolute time Sunrise/sunset [with offset]
- Received e-mails
- Security panel events
- By matched infra-red
- Recurring at regular second/minute intervals
- Event Actions
In response to event triggers, any available action may be performed, such as:
- Send lighting control signals
- Send e-mail
- Run a script
- Trigger another event
- Media Player functions
- Web Camera functions