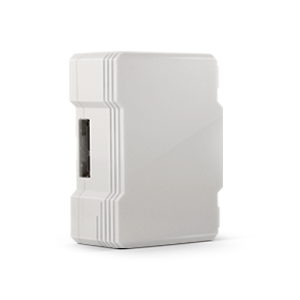 Power module determines electricity consumption from a current clamp attached to one of the power cables. Up to 4 current clamps can be connected directly to the the Power module, and up to 16 more can be connected by using add-on on modules. All the measurements are available on the cloud server where customers can visualize and analyse their energy consumption when ever they want. Most important, customers can use real time measurements to create their own energy saving rules by using Zipato Rule Creator, breakthrough graphical automation interface.
Connecting the Power Module
- There's a risk of electrical shock when dealing with mains voltages!
- Installing Power Module should be done only by a professional electrician!
- If installing Zipabox in an electrical cabinet or connecting Power Module directly to mains, remove the main circuit breaker before starting any work!
Installing the Power Module
1. Disconnect power from Zipabox
2. Remove all modules from Slot 1
3. Connect AC wires to Power Module
4. Align connector of Zipabox Power Module to expansion Slot 1 of Zipabox
5. Join Power Module and Zipabox together until gap between them is completely closed
6. If you had any other module in Slot 1 connect them back to the Power Module in a same order as they were before
7. Connect your clip-on current transformers to channels 1 to 4
8. Re-activate mains power supply and wait for the Zipabox LED to turn solid green
Notice: This device is meant for mounting only with Zipabox. Power Module must always be installed on expansion slot 1 of Zipabox. Power Module must be the first module installed next to Zipabox and other modules can be attached to Power Module.