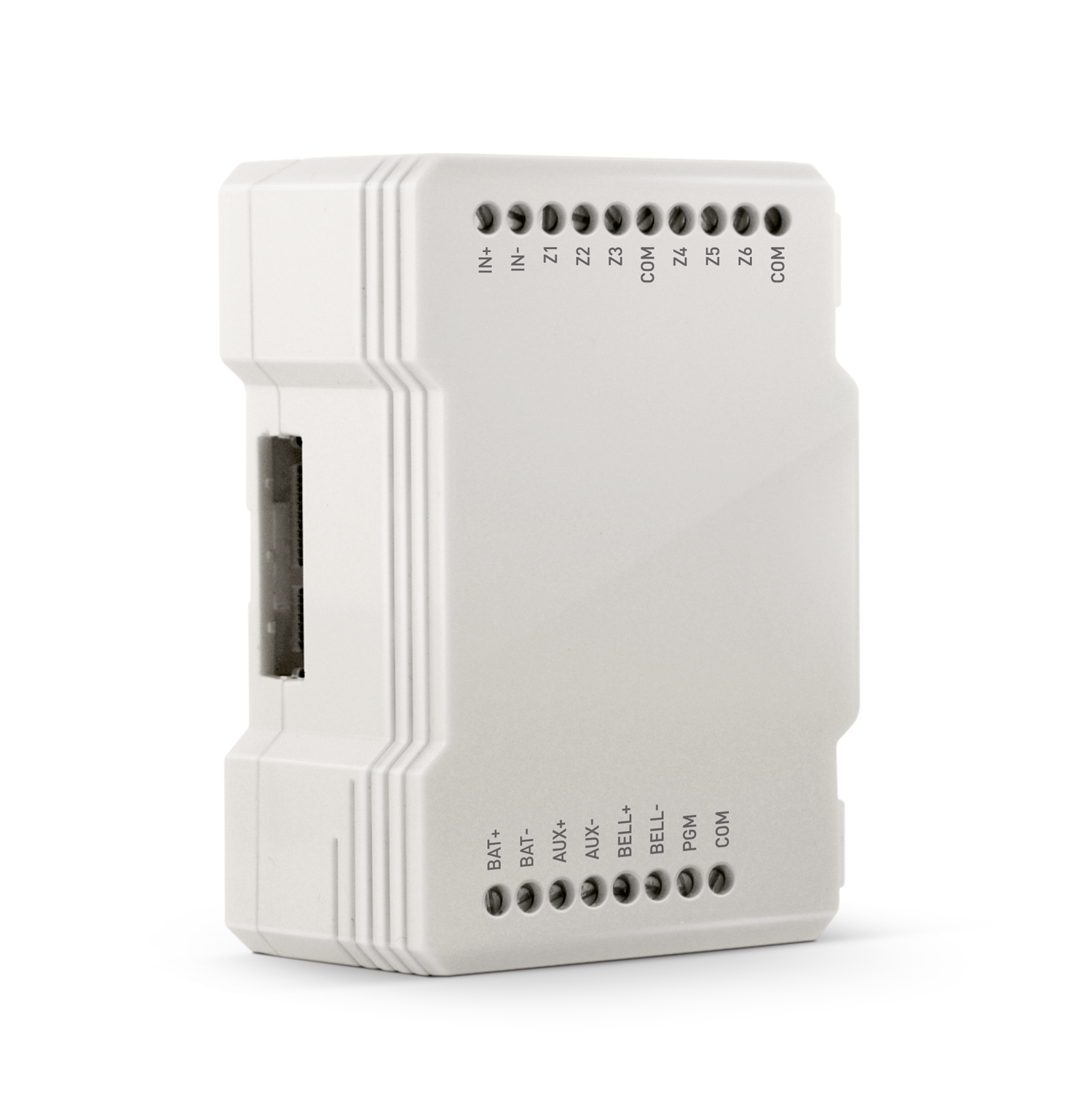 Connecting wired security sensors to the Security Module makes Zipabox one of the most advanced wired security panels on the market. Robust wired installation combined with advanced Zipabox logic possibilities provides perfectly secure and comfortable environment in any building. Low price and high reliability of wired sensors, gives an excellent opportunity for installing Zipato in the new homes. 6 on-board zone inputs, siren output and input, PGM output and lead acid battery charger, allows you to either replace your existing alarm panel with Zipabox, or use your existing alarm panel alongside Zipabox, sharing sensors or sirens, in any conceivable combination.
Connecting and installing the Security Module:
1. Power off you Zipabox
2. Connect security module to the left side (slot 1) of the Zipabox (if using Zipato Power or Backup Module, connect Security Module after those modules) as shown in the picture bellow
3. Connect your wired sensors to Zone 1-6
4. Connect output from your existing panel or some external sensor to terminals marked IN+/IN-
5. Connect your wired bell/siren to terminals marked BELL+/BELL
6. If using any powered sensors, connect them to AUX+/AUX-
7. Connect a relay or other low power 12V device to the PGM output
8. Connect a lead acid, 12V battery to terminals marked BAT+/BAT
Warning: Failing to observe correct polarity while connecting battery will result in a shorted fuse!
9. If applicable, connect a supported USB device to the USB port
10. If applicable, connect a supported device to the serial port
11. Restore power to your Zipabox, when the top button on the Zipabox turns solid green, your module is ready for configuration and use.
12. Log in to my.zipato.com and click on "Device Manager" and locate Security module
13. Unhide all zones you wish to use (zones are hidden by default).
Steps: Select "Device Manager" in Zipato Control Center, find Zone on which you want to implement changes and open "Settings" button in line with the individual Zone. Unhide the Zone and name it on "General" tab. On "Configuration" tab for each Zone, please select Zone wiring type. Please make sure the zone wiring type (Normally closed zone, Single End-of-Line resistor zone or Double End-of-Line resistor zone) corresponds to the actual zone wiring! Otherwise wrong events will be reported and such Zone will not be operational!
See article: "Zipabox Security Module - Configuring-zones"
14. After saving changes, press "Synchronize" to exchange changes from Zipato Cloud Server and transfer them onto your Zipabox
15. Next step is to configure your Security alarm and home automation rules with the newly added functionality from Zipabox Security Module!
Notice: This device is meant for mounting only with Zipabox. Security Module must always be installed in expansion slot 1 of Zipabox. If you have Power Module please connect Security Module on Zipabox Power Module. If you do not have Power Module, and you have for e.g. Backup Module, Backup Module must be the first module installed next to Zipabox and then Security Module. Other modules can be attached to Security Module.