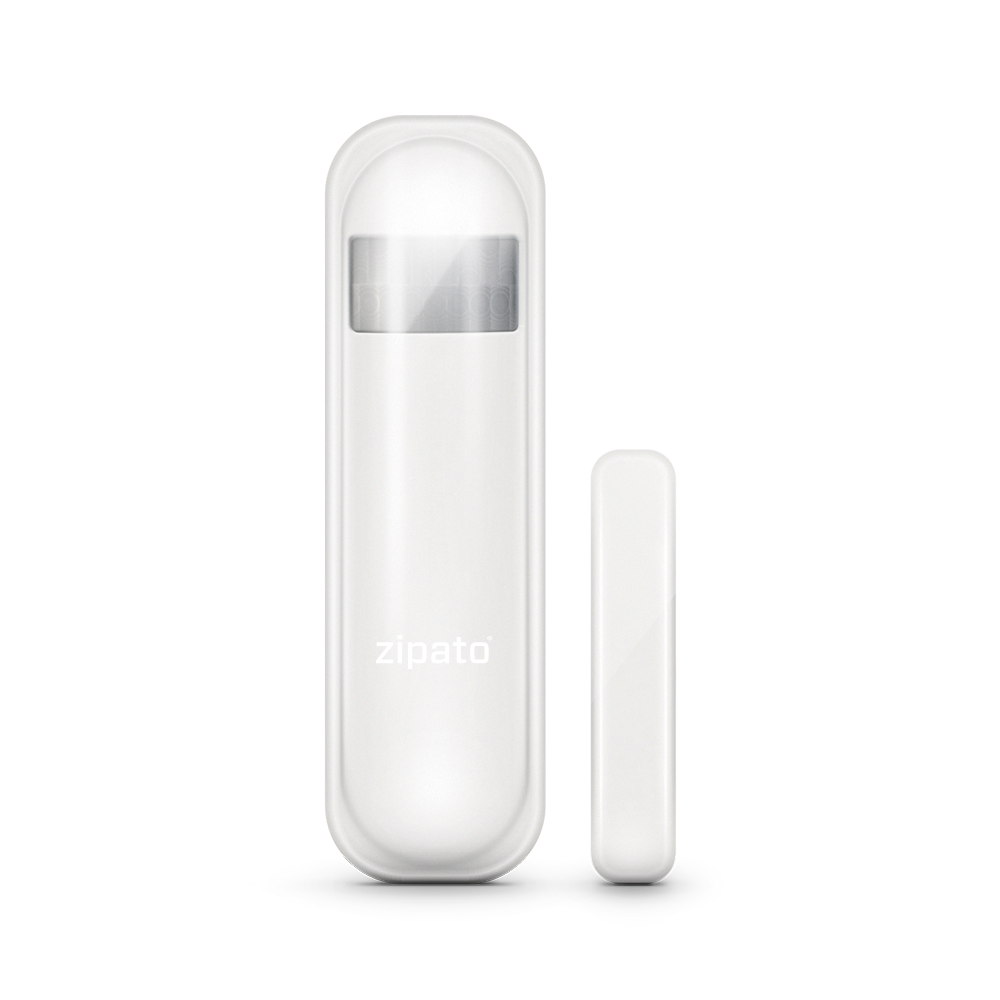 The Door/Window 3 in 1 sensor provides: door/window, temperature and illumination sensor. The sensor consists of two parts a Detector and a Magnet.
They are designed to be fitted to doors or windows with the Magnet mounted on the opening part and the Detector mounted on the fixed frame. Opening the protected door/window will remove the magnetic field, trigger the detector and generate an alarm condition, (if the system is armed). The sensor can also be applied to automatic light control, one scenario is to get the illumination lux level from built in illumination sensors and send a signal to Z-wave switch to turn the light on once we open the door when the room is dark.
Every time when Door/Window sensor is triggered, the sensor will also send temperature and illumination value as well. Also the temperature will send out the value when temperature changes.
How to add Zipato Multisensor Trio?
1. Log in into Zipato Control Center
2. Go to the "Device manager" button on the left sidebar
3. Press "Add new device" button
4. Please find and choose Z-Wave network protocol
5. Exclude (reset) of the device before inclusion (always good prior inclusion process)
* If the device is New (out of the box):
- just power it on by taking out the insulation Mylar from the back side of the device (or just place the battery inside it) and the device will auto start the Exclusion mode.
- you will see simultaneous blinking Led light indication.
* If the device was previously included on a Z-Wave controller:
- put the device in the Exclusion mode by pressing tamper key three times within 1.5 seconds and it will enter the Exclusion mode.
6. Include the device
* If the device is New (out of the box) and Exclusion process finished successfully:
- it will go automatically in the Inclusion mode
- you will see simultaneous blinking Led light indication.
* If the device was previously included on a Z-Wave controller:
- put the device in the Inclusion mode by pressing tamper key three times within 1.5 seconds and it will enter the Inclusion mode.
* The device will wake to receive the setting command from Z-Wave Controller in about 20 seconds.
7. Automatic synchronization of data between your Zipato Controller and Zipato Cloud Server will be done
8. Congratulations your Multisensor Trio added/included on the Zipato Controller
---
Tutorial: